House Clearance Southampton
Highest Quality House Clearance & Household Waste Clearance and Collection services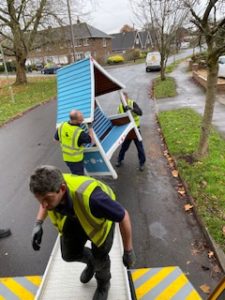 Disposal & clearance services for houses of all sizes and types:
Inner city homes, despite limited car parking
Flats and apartments, even where there is not a lift
Commercial premises, consisting of retailers and office buildings, factories and warehouses
Storage services
Farms, barns and hangars
Gardens and parts of land, which includes garden sheds, outbuildings, automobiles, etc.
Getting rid of unwanted things whilst moving home
We are able to get rid of waste items you may not want to take with you, possibly when you are down-sizing or simply just when you intend to equip your new house with brand-new pieces of furniture. We know that moving house is definitely the ideal chance to de-clutter and live much more minimally, so allow us to take the effort out of getting rid of old unused or unwanted belongings.
Household Waste Disposal Southampton
We provide removal solutions for homes, garages and gardens – for when you simply need to declutter your house. We are able to simplify the job of getting rid of sizeable and weighty items out of your home.
Our Latest Testimonial – "We needed a removals company at short notice and from the moment Bob came round to see what we needed to be moved we knew we were in good hands. Boxes, tape and paper were provided quickly. On the moving day, our kitchen was packed for us and an excellent job was done! Throughout the day our stress levels were kept to a minimum. Nothing was too much trouble for Yellow Ducks, even though some of our stuff was going into storage, some was being donated to charity, and some needed disposal! If we were moving again then we'd definitely call Yellow Ducks first."
Comprehensive House Clearance Southampton
You might find the job of clearing out your property extremely challenging, emotional or possibly a considerable physical difficulty. You also may not want to take time out from work in order to watch the process through. Yellow Duck are expert home clearers and our staff may be either directed by you or simply left by themselves to speedily load up our vans with optimal utilization of space, therefore offering far better value than any other alternatives you could use instead – for example , hiring a skip. We are able to generally carry out the job in one day too, letting you progress quickly with your renting, selling, or re-decorating.****
Commercial sector
Not restricted to homes, office and factory/industrial premises can be cleared by our team too. We clear houses for clients in letting and estate agents, and offer a discrete service for solicitors who deal with the properties of individuals who have recently passed away.
Our prices are transparent with no hidden extras
The price is always agreed before we start work. We then commence the task and take everything we agreed to with no hassle or hidden costs.
Greener Services
We are an environmentally-conscious company and always route recyclable and reusable items and materials to be processed instead of simply tipping them. This ensures we keep the costs associated with our clearance and disposal services low, but also makes sense to preserve the environment for future generations. We act in accordance with all Environment Agency regulations, including the Waste Electronic and Electrical Equipment (WEEE) directive.
Frequently Asked Questions
How much will it cost?
We offer a fixed price quote. This is calculated according to density of contents and number of rooms. We can call in to evaluate the job for free; simply call us on 0800 511 8282 or fill in our Enquiry Form.
I wish to keep some of my items. How are these handled?
We are always happy to transport any items you wish to retain to a location of your choice.
There are valuable / sentimental items in my property. Can these be saved?
Antiques, collectables (books, stamps, toys, silverware, ceramics), fine art can either be kept aside for you to go through yourself or we can simply arrange for these to be sold on your behalf and the proceeds used to offset the fee of your clearance service. We are totally flexible and understand the need to listen closely to our customers to ensure nothing is ever sold accidentally or before people have a chance to change their mind.
I'm not sure what's in the room(s) I need clearing. Do you clear everything you find?
We are sensitive when going through personal effects to separate photos, important or confidential documents and the like, ensuring that they are brought to the attention of the owners or relatives. Our staff are bound by a confidentiality agreement which prevents them from disclosing any details of the house clearance to any third party.
My property is extremely cluttered / unsanitary / unsafe. Can you still do it?
Sometimes the sheer volume of possessions makes the task too much for family or friends to cope with. This is actually far more common than you may think and often arises as a result of ill health or infirmity of the occupants, a condition like Compulsive Hoarding Syndrome or OCD, or simply adverse personal circumstances. We are happy to clear properties containing years of accumulated possessions and often deal with tons of stored rubbish. There is no need to be embarrassed by such conditions.
My property contains illegal items. What will happen to them?
We do encounter hazardous waste during clearances, such as firearms, ammunition and chemicals (such as pesticides) which were sold without restriction when purchased but which have subsequently been banned. When this happens we can arrange for them to be disposed of in compliance with current UK legislation.